Vigilant Eats Organic Goji & Cacao Nib Superfood Cereal
» Current Offer: $59.88 $38.95
| | |
| --- | --- |
| | |
More Details

Meet <b>Vigilant Eats</b> and their opus of a snack: the <b><i>Organic, Superfood, Oat-based Cereal</b></i>. Nowhere will you find a better deal on this gluten-free oatmeal style powerhouse. We're so impressed by the quality of their ingredients and the creativity of this instant, <i>just add water</i> nutrient-rich creation. All organic, gluten-free, vegan, with cacao nibs, goji berries and more. There is even hemp milk powder inside, so the deliciousness is fool proof. Packaged as an ultra-convenient, single-serving cup with a foldable spoon included; it's nearly impossible to mess this one up. <b>11g/protein & 8g/fiber per serving.</b> (Add hot water or your favorite nut mylk if preferred!)<br><br><b><i>Superfood Ingredients:</b></i><br><br>• Gluten-free oats and oat flour<br>• Goji berries<br>• Cacao nibs<br>• Hemp flour<br>• Coconut palm sugar, (recently described by Dr. Oz as "the healthiest sugar alternative")<br>• Yacon powder<br>• Maple powder<br>• Cinnamon<br>* These low-glycemic sweetners provide long-lasting energy without the sugar spikes and crashes, all while loading the body with antioxidants, fiber, and protein. <br><br><b><i>Health Benefits:</b></i><br><br><b>Goji Berries (Raw)</b> —(ORAC 25,300) "The fountain of youth plant." One of the richest sources of antioxidants of any food source. It contains four unique polysaccharides that boost the immune system, stimulates the pituitary gland thus increasing production of human growth hormone (HGH), which is the master hormone controlling all the others. When HGH levels increase, many of the symptoms of aging can decrease. Also promotes loss of body fat. Great blood cleanser & great for improving vision.<br><br><b>Cacao (Raw)</b>—(ORAC 62,100) Cacao raises the level of serotonin in the brain; thus acts as an anti-depressant, helps reduce PMS symptoms, stimulates the secretion of endorphins and promotes a sense of well-being. Found in chocolate, phenylethylamine is also created within the brain and released when we are in love. Acts as mild mood elevator and anti-depressant, and helps increase focus and alertness. Anandamide is known as the "bliss chemical" because it is released by the brain when we are feeling great. Cacao contains both N-acylethanolamines, believed to temporarily increase the levels of anandamide in the brain, and enzyme inhibitors that slow its breakdown. Promotes relaxation, and helps us feel good longer. Cacao Contains more antioxidant flavonoids than any food tested thus far. Promotes cardiovascular health by dilating blood vessels, improves circulation, regulates heartbeat and blood pressure, lowers LDL. Cacao is the number 1 source of magnesium of any food. It balances brain chemistry. High in Sulfur, which detoxes the liver and supports healthy pancreas function. Cacao contains Oleic acid, a heart healthy monosaturated fat that reduces appetite.<br><br><b>Hemp</b>— Acts as an anti-inflammatory with a 3:1 ratio of omega-6 fatty acids to omega-3 fatty acids. Hemp might be the only edible food source of (GLA) gamma linolenic acid, which facilitates fat burning, regulates hormones, builds good anti- inflammatory hormones, and lowers LDL to improve cholesterol ratio. Rich in antioxidant vitamin E and high in protein. 3 tablespoons of hemp seeds contains 11 grams of protein.<br><br><b>LOW GLYCEMIC INDEX (GI) SUPERFOOD SWEETENERS</b><br><br><b>Coconut Palm Sugar</b> (GI 35)—"Switching to coconut palm sugar can prevent the sugar crashes that make you hungry and then cause you to gain weight"—Dr. Oz. It contains potassium and iron and can help stabilize your blood sugar. This nutrient-rich sweetener may help put the brakes on childhood and adult diabetes and obesity.<br><br><http://i1133.photobucket.com/albums/m599/Wellyfish/VigEatsPhoto.jpg><br><br>

Merchant Info

Fine Print

• No Soy<br>• No Dairy<br>• No Additives<br>• No Preservatives<br>• No Refined Sugar<br>• All Kosher Ingredients<br>• All Organic Ingredients<br>• Non-GMO<br>• Product will be shipped when deal expires via ground shipping.<br>• No refunds after 24 hours from purchase date and time.<br><br><b><i>Delicious Food Justice</b></i><br>"Vigilant Eats is fueling the Food Revolution with the highest quality organic foods available. Our commitment is to you, our fellow food conscious citizens, who rightfully demand foods of superior nutritional integrity. We honor this demand and honor you by donating a portion of our proceeds to the brave organizations fighting to uphold your right to consume unadulterated, nutrient-rich foods."<br><br><b>Yacon Root Powder</b> (GI 3)—Yacon contains inulin, an indigestible sugar that produces a natural sweetness yet creates only a minimal rise in blood sugar—a perfect sweetener for diabetics. While Yacon increases calcium and magnesium absorption, it also acts as a prebiotic, balancing flora in the intestines and has proven effective against parasites and fungus.<br><br><b>Maple Powder</b> (GI 54)—Excellent source of manganese and zinc. Manganese is an essential cofactor in the production of the enzymes that disarm free radicals. Manganese also helps humans synthesize fatty acids and cholesterol as well as helps the production of sex hormones. Lastly, it lessens inflammation and acts as an immunostimulant. Zinc may decrease the progression of atherosclerosis (hardening of the arteries) by promoting the proper functioning of endothelial cells. Zinc also reduces prostate size and risk of prostate cancer.<br><br><b>Gluten-Free Oats</b>—Eating oats has been linked to protection against atherosclerosis, ischemic stroke, diabetes, insulin resistance, obesity, and premature death. It lowers cholesterol and risk of cardiovascular disease, stabilizes blood sugar, lowers type 2 diabetes risk, and contains fiber which protects against breast cancer. In addition to its fiber benefits, oats are also a very good source of selenium. A necessary cofactor of the important antioxidant, glutathione peroxidase, selenium works with vitamin E in numerous vital antioxidant systems throughout the body. These powerful antioxidant actions make selenium helpful in decreasing asthma symptoms and in the prevention of heart disease. In addition, selenium is involved in DNA repair and is associated with a reduced risk for cancer, especially colon cancer.<br><br><http://i1133.photobucket.com/albums/m599/Wellyfish/VigEatsLogo.jpg><br><br><http://i1133.photobucket.com/albums/m599/Wellyfish/ScreenShot2012-09-30at62950PM_2.png><br><br><http://i1133.photobucket.com/albums/m599/Wellyfish/ingredients.jpg><br><br>
Meet Wellybox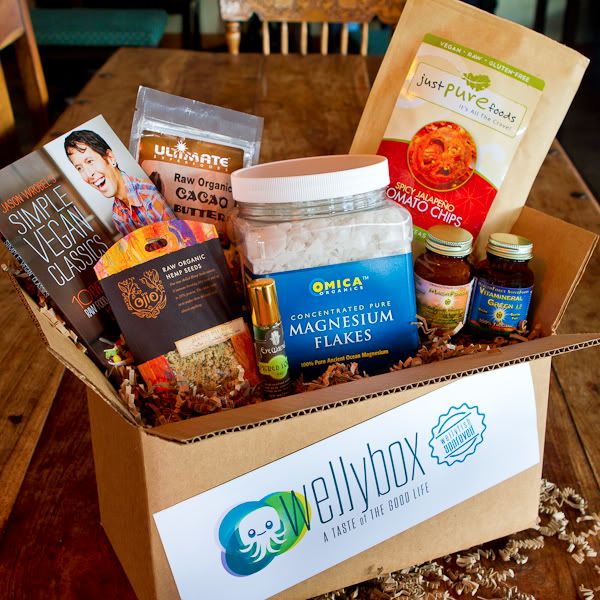 Meet
Wellybox
, the
cleanest, purest
curated box of strictly organic, eco-friendly goodness on the market. From superfoods to shampoos, it's all delivered right to you every month.
Available for as low as $17!


Click
here
to purchase and learn more.
Organic • Non-GMO • Gluten Free • Dairy Free • Soy Free • No Refined Sugars & more


*Photo above is for advertising use only.
Customer Care
Talk to us. We are at your service anytime: